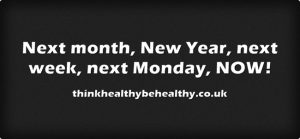 HOW MUCH  longer are you willing to put off making your desired changes?
It's New Year once again and like most people, you are most likely full of enthusiasm and good intentions.  A New Year, a new start.
Fast forward just one week however, and next Saturday, the 17th January, is the most common day people give up on their New Year resolutions (yes, that soon!)
Are you going to be one of those people this year, again?
Another year where you fail miserably before the year has barely got started?
Another year of this weighing on your mind (and if it's weight loss you're after, on your body too!)
If you want to be sure that this year IS the year you make those desired changes you've been promising for years ( … how many years now?!), then do get in touch.
With several client programmes nearing end, I have a small number of slots becoming available.  Places are filling up fast, not surprisingly (3 new clients in the last two days!) and working on a personalised basis, places are limited.
I offer a free no-obligation telephone chat so if you really want to MAKE IT HAPPEN in 2015, make this year's New Year resolution to get in touch TODAY!