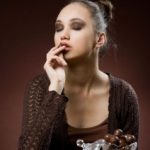 So!  It's almost a week since Easter and you've likely had your fill of Easter eggs (maybe even a few more!).  So why then are so many of you finding your recent over-indulgence has heightened rather than reduced your desire for chocolate.  Even just the sound of the word 'chocolate' conjures up that smooth, milky taste and gets your mouth watering.  And that's before you see the picture below …Mmmmm!
Now, just look at how easy it was for me to get you thinking about chocolate, imagining chocolate and even more, tasting that silky chocolate in your mouth in the space of just a few seconds.  And now just think how easy it can also be for me to get you to stop delighting in the taste of chocolate, to stop dreaming about chocolate and to put a stop to those unhelpful cravings (well, so often cravings do tend to be for high fat/high sugar/unhealthier foods rather than say, cabbage!) once and for all!
Sorry, my apologies.  I really didn't intent to bring on yet another chocolate craving.  Despair not, however, help is at hand.  Working on a one-to-one basis, I address any cravings and put in place kinder and healthier ways of meeting these needs.  In addition, you will receive my wonderful little hypnosis download Banish Those Cravings which does JUST THAT.  Not that it needs to be chocolate of course.  Now who said Cheese?